I. Introduction
Welcome to the world of custom bag production! Here at Helios, we understand the importance of having bags that meet your specific needs and reflect your personal style. Whether you need a bag for everyday use, a promotional item, or a unique gift, we are here to help you create the perfect one. In this article, we will introduce you to our various bag options, including drawstring bags, canvas tote bags, and tote bag printing, to help you make an informed decision. By the end of this article, you will have all the information you need to create a bag that fits your lifestyle and enhances your brand.
II. Drawstring bags 
Drawstring bags are a versatile and convenient option for those who are always on the go. Whether you're heading to the gym, school, or traveling, a drawstring backpack is a great choice.
What can I use a drawstring backpack for?
Drawstring backpacks can be used for a variety of purposes, such as carrying gym clothes, school supplies, or travel essentials. They are lightweight, easy to carry, and can be easily packed into a larger bag when not in use.
Advantages of drawstring bags
One of the biggest advantages of drawstring bags is their adjustable straps, which allow you to customize the fit to your body type. This makes them much more comfortable to carry than traditional backpacks, especially for longer periods of time. Additionally, drawstring bags are easy to access and secure, making them a great option for everyday use.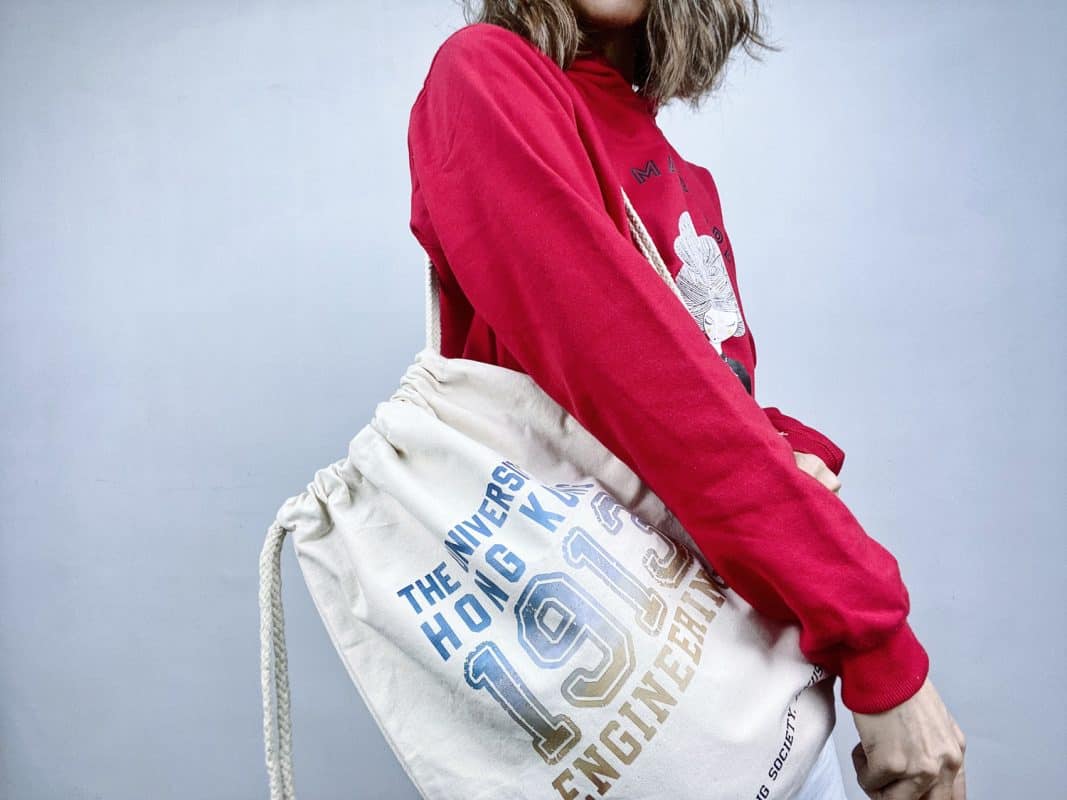 III. Canvas Tote Bags
Canvas tote bags are a popular choice for those who want a durable and eco-friendly option for carrying their belongings. With their versatility and timeless style, canvas tote bags are a great way to promote your brand and show off your personal style.
Popularity of canvas tote bags and why it can favor your business
Canvas tote bags have become increasingly popular in recent years due to their durability, eco-friendliness, and versatility. They are a great way to promote your brand and show your customers that you care about sustainability. By using canvas tote bags instead of disposable plastic bags, you can also help to reduce waste and protect the environment.
Choosing the best color for bags to suit your brand
When it comes to choosing the best color for your canvas tote bags, it's important to consider your brand image and the message you want to convey. Color psychology plays a big role in the way people perceive your brand, so it's important to choose a color that fits your brand's personality. Popular color choices for canvas tote bags include black, navy, and natural.
Designing your custom tote bag
Designing your own custom tote bag is a fun and easy process that allows you to create a unique product that perfectly suits your needs. Here are the steps for designing a custom tote bag:
Choose your logo placement and size

Select your artwork and any additional graphics you would like to include

Decide on your preferred size, color, and fabric for the tote bag

Preview your design and make any necessary revisions until you are satisfied with the final product.
IV. Tote Bag Printing
Tote bag printing is a great way to customize your canvas tote bags and make them truly unique. Whether you're promoting your brand, creating a souvenir, or simply adding a personal touch to your bag, tote bag printing can help you achieve your goals.
Explanation of tote bag printing and its benefits, and how to fit your brand and your purpose
Tote bag printing involves adding custom designs, logos, or text to a canvas tote bag. This allows you to create a truly unique product that fits your brand and your purpose. With tote bag printing, you can choose from a variety of printing methods, such as screen printing, heat transfer, and digital printing, to achieve the look you want.
Popular designs for tote bag printing include:

Popular printing methods include:

Screen printing (cost-effective and produces vibrant, long-lasting designs)

Heat transfer printing (allows for more intricate designs and offers a wider range of color options)

Digital printing (recent innovation offering high-quality, full-color printing with quick turnaround times)
Regardless of the method, tote bag printing allows you to make your canvas tote bags truly unique and reflective of your brand.

V. Conclusion
In conclusion, custom bag production offers a wide range of options for individuals and businesses looking to promote their brand or create unique products. Drawstring bags offer the convenience of adjustable straps and easy carrying, while canvas tote bags offer durability, eco-friendliness, and versatility. Tote bag printing provides an opportunity to further customize your bags and make them truly reflective of your brand.Order your custom bags today to take advantage of all the benefits custom bag production has to offer. Contact us for more information and to start your order.